BOOK DESCRIPTION:
Put the brush in your hand. Stick it in the water, then smush it around in one of the colors. Now take a deep breath and plop it down on the page . . .
You're an artist.

Yes, really! Young or old, there is an artist in each of us. If yours is hiding (perhaps behind a shred of self-consciousness?), just remember: Art is personal expression. You have your talent. Nobody else has anything like it!

If you are ready to discover (or re-discover) your genius, Paint This Book! is here to help. The paints, the brush, and the watercolor paper are all included—plus irresistible encouragement and exercises from authors John Cassidy and Thacher Hurd:
Work small: Quick, spontaneous strokes will happen more naturally.

Trust your instincts: Watercolor can turn to mush with a lot of revision. You're better than you think you are!

Choose your techniques: You'll learn about light and shadow (page 43), perspective (page 51), and more. But it's up to you whether to use these skills often, or never! Either way, there are many artists who do the same.

Don't forget: Sometimes a shimmer of color on the page can look even fruitier than a real bowl of fruit. Between these covers, there are no mistakes. Just add imagination (and water)!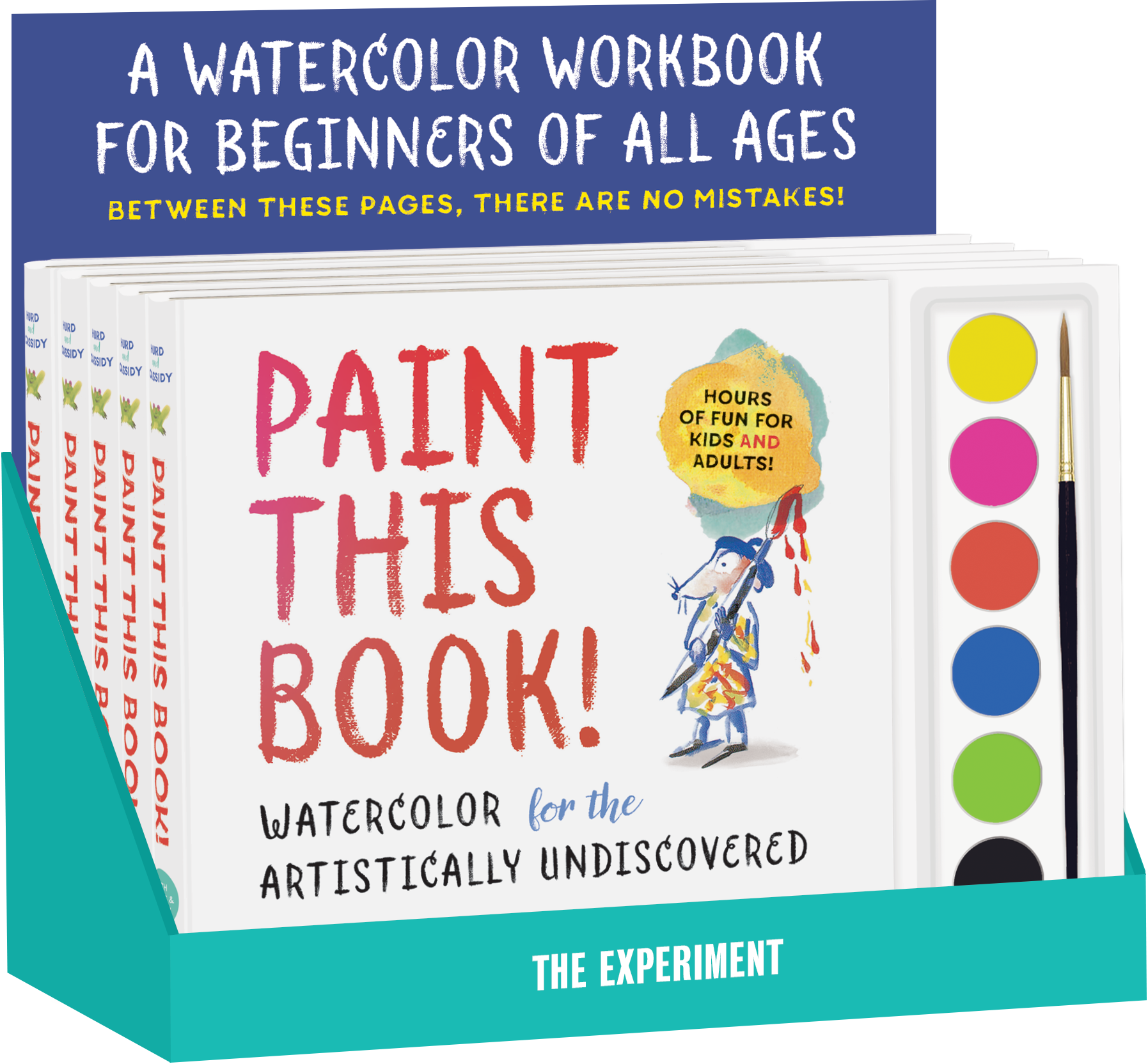 Available in a 5-copy counter display
9781615193943
$124.75 US
To order, please contact our distributor, Workman Publishing, and reference product number 779394.
72 PAGES
BOOK REVIEW:
What a gorgeous book!  I received this book in exchange for an honest review.
This is a unique book in that it contains your watercolor paint, brush, paper and instructions.  The format, however, is what makes it a must have.  It's laid out with watercolor paper in a journal style that allows you to follow simple instructions to hone your watercolor painting technique.  There are examples of what to paint and instructions that accompany these photos that are clear, easy to follow and comes with the promise of fine tuning your skill.
I like the whole package and can't help but think this would make a lovely gift for the artist in you or your family member, or friend.  It's bound with a hidden spiral that allows for movement and ease of flipping pages, and if there's something you really like, you can remove it easily from the book to frame or share. Lovely design, hardcover book geared for both kids and adults alike.  However, I would recommend an older kid around the age of 7+ would appreciate this book the most.
All the brush stroke techniques inside makes this an excellent tool for adult painters who wish to strengthen their technique/skills, refresh themselves if away from painting for awhile, or, simply to have fun with.
Thacher Hurd has received the Boston Globe–Horn Book Award and the New York Times Best Illustrated Award. He cofounded Peaceable Kingdom Press in 1983.
thacherhurd.com
John Cassidy cofounded Klutz in 1978 and was its creative head until 2000. He has written over 200 books and received the Legacy for Children Award. He currently lectures at Stanford's Hasso Plattner Institute of Design. He lives in California.
Made available May 2nd, 2017
You can purchase yours: here or here
A wonderful purchase! Highly recommended!
I give this book: